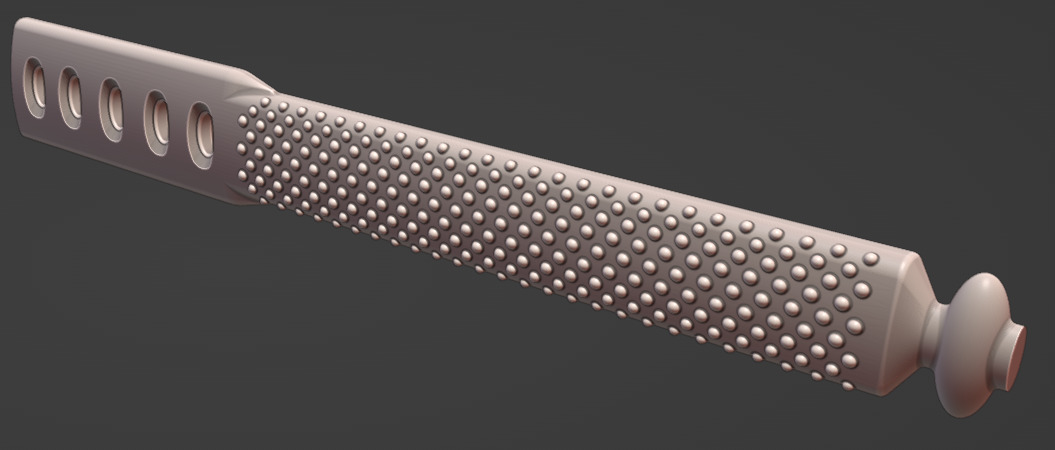 While THOREME has taken all reasonable care to ensure the accuracy, currency, availability, security and correctness of the information contained on this page, it should be noted that this page and all its contents, including but not limited to text, images, videos, and documents in PDF format, have been developed for academic purposes and applied design research.
Fictitious Nature and Non-Commercial Purpose of the Information:
The information, data and resources available on this page are purely fictitious and are presented for illustrative purposes only. It should not be construed as true, accurate or reliable, and is intended for non-commercial and educational use only. Users are cautioned not to rely on the information presented on this page.
Disclaimer :
To the fullest extent permitted by applicable law, THOREME assumes no responsibility for the accuracy, adequacy, reliability, or completeness of the information provided herein and shall not be liable for any damages or injury resulting from access to, use of, reliance on, or inability to use this page or its contents, even if THOREME has been advised of the possibility of such damages.
Copyright :
The contents of this page are protected by copyright and are the exclusive property of their respective author(s). Any reproduction, distribution, modification, adaptation, retransmission or publication, even partial, of these various elements is strictly forbidden without the express written consent of the author.
Conclusions:
By accessing this page, users acknowledge that they have read and understood this disclaimer and agree to use the site and its contents at their own risk. THOREME shall not be liable for any loss or damage, direct or indirect, arising from the use of or reliance on this information.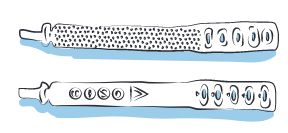 Adjustable silicone contraceptive wristband
The Andro-swatch is an adjustable silicone ring - like a bracelet - that enables the practice of so-called "male" thermal contraception, if worn 15 hours a day, every day. To facilitate its appropriation, the Androswatch is released under a free license*. It is designed for simple manufacture using a 3D-printed mold and biocompatible silicone.
Whether it's for starting contraception, for fitting, or for a physical activity requiring greater restraint, its adaptability has been designed to meet the growing needs of testicular contraception users. Its 5 sizes correspond exactly to those of the Andro-switch.
Open-source male contraception
Androswatch is licensed under a Creative Common (CC-by-nc-sa) & Blockchain Certificate license: this work may be freely reproduced and shared for non-commercial use, provided that any such sharing complies with the same license as the original.
SEX-ED + makes various contraceptive methods available free of charge for 3D printing!
DIY Thermal contraception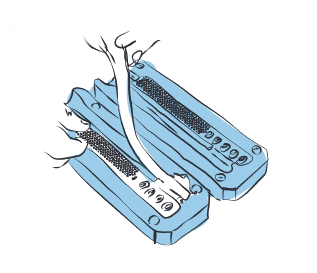 Here you can download all you need to make your own adjustable contraceptive ring. A PDF tutorial with details of all the steps and the STL files to make the molds using a 3D printer.
Silicone: Platinum - Biocompatible - Shore 10 to 20 + silicone oil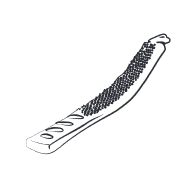 Once out of the oven, simply check that the silicone ring is still usable.
If the inside of the ring is glazed with small bubbles, this means you need to remake the mold, mixing better.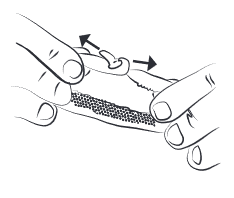 The androswatch can be opened and closed simply by means of an olive that can be hooked into the various holes.
This allows you to change settings during the course of a day, or according to your physical activities.

User manual - AndroSwatch
Differences between andro-switch & andro-swatch
Making the andro-switch
Handcrafted production undergoing European certification.
Making the andro-swatch
Autonomous production to be shared without European certification
Purpose of the andro-switch
Patented & accessible to the general public
Becoming the first CE medical device for testicular contraception
Purpose of the andro-swatch
Open source & individual and collective ownership
Becoming the object at the intersection of applied design research - testicular contraception - maker culture
Durability & practicality of the andro-switch
Interesting long-term testicular contraception
Can be guaranteed for 2 years
5 sizes and 2 types of elasticity for 10 possibilities only
Non-adjustable
Durability & practicality of the andro-swatch
Interesting testicular contraception start-up
Can be used for 6 months to 1 year
1 single model, 1 single elasticity, but infinite possibilities by modifying print files and molding.
Adjustable